Special Activities @Kali Tiger Reserve
Special Activities at Kali Tiger Reserve are namely- Orchidarium & Back River Water Boating.
Orchidarium
Welcome to the Kali Tiger Reserve Orchidarium, a unique attraction that combines the beauty of orchids with the thrill of wildlife. Located within the Kali Tiger Reserve, this Orchidarium is a testament to the region's rich biodiversity and the dedication of the people who protect it.
Here at the Orchidarium, we have a wide variety of orchids that are naturally found in the wild. Our team of experts carefully cultivates these orchids under controlled conditions to ensure their survival and growth. The Orchidarium is designed to mimic the natural environment of these exotic plants, creating a spectacular display of colors, shapes, and textures.
Visitors to the Kali Tiger Reserve can now experience the magic of the Orchidarium firsthand. Our knowledgeable guides will take you on a tour of the facility, explaining the different types of orchids we grow and the importance of their conservation. You will also learn about the traditional uses of orchids in medicine and culture, and how these plants are vital to the ecosystem.
Whether you are a nature lover, a photography enthusiast, or simply looking for a unique experience, the Kali Tiger Reserve Orchidarium is not to be missed. Come and discover the wonders of orchids and wildlife, and support our efforts to protect the natural heritage of this magnificent region.
Back River Water Boating
Explore the tranquil beauty of the Kali Tiger Reserve with our newest attraction, Backwater River Boating. This exciting activity allows visitors to experience the reserve from a whole new perspective, gliding along the serene backwaters of the Kali River.
Our expert guides will take you on a journey through the heart of the reserve, pointing out the various flora and fauna that call this pristine environment home. You may spot a variety of wildlife, including otters, crocodiles, and a myriad of bird species.
The boating experience is designed to be eco-friendly, using boats that have minimal impact on the natural surroundings. This allows visitors to enjoy the peace and tranquillity of the backwaters without disturbing the delicate balance of the ecosystem.
Backwater River Boating is a perfect activity for families, nature enthusiasts, and anyone looking to escape the hustle and bustle of daily life. It offers a unique and memorable way to connect with nature and experience the breathtaking beauty of the Kali Tiger Reserve. Don't miss out on this opportunity to create lifelong memories!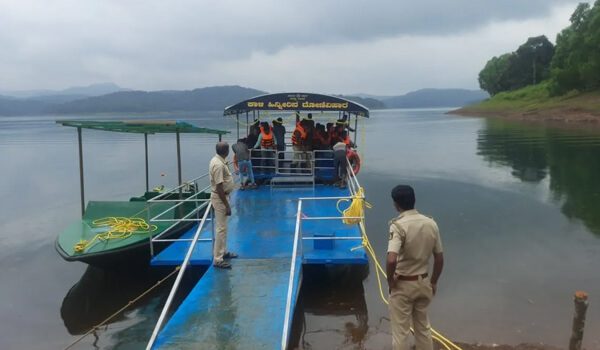 Stay at Nature's lap!
Discover Places & Availability.